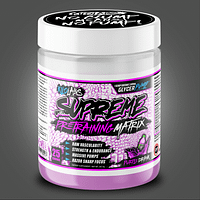 Kilo Labs Supreme Matrix
$44.99
$44.99
DESCRIPTION: Formulated to take you to new levels during your workouts. HUGE Skin Stretching pumps, Laser focus, and enough Endurance and Hydration to keep you going during the hardest of workouts. SUPREME is a Fully Dosed HIGH STIM pre-workout formulated for the advanced user.
INGREDIENTS:
L-CITRULLINE MALATE 6,000MG
BETA ALANINE 3,200MG
GLYCER PUMP 2,000MG
COCONUT POWDER 500MG
CAFFEINE 400MG
DMHA 200MG
THEOBROMINE 150MG
HUPERZINE 100MG
Only logged in customers who have purchased this product may leave a review.